How Pawn Shops Are Using Artificial Intelligence To Tackle Counterfeit Goods
Fake goods can cause severe reputational and financial harm to pawn shops. Learn how technology is helping save the day.
Last updated November 17, 2022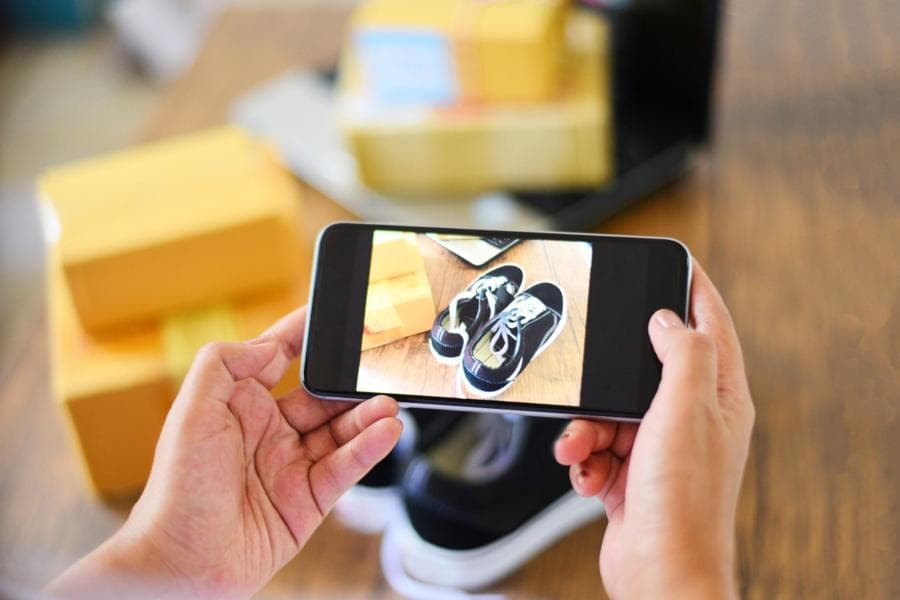 The counterfeit goods business is booming - in 2022 it is estimated that the global counterfeit goods market will exceed $3 trillion. Counterfeit products commonly affect designer goods such as luxury handbags, apparel, sneakers, jewelry, watches, and high-end shoes. Other industries affected by fake goods include music and DVD movies.
Trafficking in counterfeit goods is illegal in the United States. Individuals convicted of trafficking in counterfeit goods face penalties of up to $2,000,000 and 10 years in prison. Fake goods continue to thrive despite the steep penalties.
According to data from the OECD, counterfeit and pirated goods represent about 3.3% of global trade. The majority of fake goods picked and seized by customs checks originated in mainland China and Hong Kong. Other sources included the United Arab Emirates, Turkey, Singapore, Thailand, and India.
Footwear represents the largest segment of counterfeit goods at 22%. Footwear, clothing, leather goods, electrical equipment, and watches represent 70% of all counterfeit goods according to the OECD report.
Counterfeit Goods Harm Pawn Shops
You know, you just live and learn. That's kinda how it works. You don't have a pawnbroker school where they teach you that. It's all trial and error. As many big scores that I've gotten, I've been burned a lot, too.

- Corey Harrison from Pawn Stars in an interview with When In Manilla
Pawn shops are not able to legally buy or sell counterfeit goods. Transacting fake goods can result in hefty fines or the loss of the pawn shop's operating license. In addition, counterfeit goods can cause severe reputational damage to the pawn shop and pawn industry as a whole.
Pawn shops use a variety of methods to detect fake items. Some items like jewelry require a trained jeweler and special tools and machines. Other items a signed Babe Ruth bat may require an expert's opinion on Babe Ruth and signatures.
Pawn shops could face a financial loss on transactions when they accept counterfeit goods unknowingly. Pawn shops must pull the item from their inventory when they discover it is counterfeit - this means that any money they paid for it is now a loss.
Several scams exist where people bring in high-quality fakes and replicas to pawn and sell at pawn shops. Pawnbrokers are good at filtering out most counterfeit items, but it is impossible to catch 100% of items. This is why many pawn shops are searching for technology solutions to help them tackle the growing fake goods issue.
Common merchandise categories that have fake items include:
Antiques
Collectibles
Handbags
Designer shoes and sneakers
Designer clothing
Electronics
There also have been rare reports of fake gold too.
Artificial Intelligence Is Helping Pawn Shops Identify Fakes
Many pawnbrokers use software services like Entrupy to identify fake designer goods. Entrupy provides scalable artificial intelligence solutions for product verification. Entrupy's customers include pawn shops, sneaker resellers, online marketplaces, and online retailers. Entrupy specializes in:
Luxury authentication: A scientifically-proven approach that better protects buyers and sellers of frequently-counterfeited, high-value items.
Sneaker authentication: Entrupy protects the sneakerhead community from superfakes flooding the market. Many high-quality fake sneakers are difficult to detect and can fool many humans. Entrupy's AI technology is capable of filtering out many superfakes.
Entrupy's pawn shop services
Entrupy caters specifically to the pawn shop industry (read more here). Entrupy helps pawn shops transact in luxury and designer goods with confidence. Fake and counterfeit goods can become major reputational headaches and cause financial and legal problems for pawn shops.
Pawnbrokers are stretched thin and cannot become deep subject matter experts in all industries. The rise in superfakes is making it extremely difficult to detect counterfeit goods. Entrupy's software helps streamline the authentication process.
Verify before intake - Pawn shops can use Entrupy to check goods before buying them or accepting them as loan collateral.
Showcase certifications - Instill confidence in buyers by showcasing Certificates of Authenticity.
Provide authentication-as-a-service - Expand your customer base by offering on-demand authentication to customers.
Join the sneakerhead economy - Join the multi-billion dollar industry with confidence.
Tips On How To Spot Fake Goods
Spotting fake goods can be difficult because each counterfeiter uses different styles and methods. Below are some tips to spot counterfeit goods:
Price is too good to be true: Often fake goods are much cheaper than the real thing. Be aware that a very low price could be an indicator that the item is counterfeit.
Low quality or missing packaging: Counterfeiters often cut corners to save costs - usually this is in the form of lower quality packaging. Inspect the box and documentation. Verify that they look similar to the real thing.
Look at the seller's reputation and feedback: Read reviews online and see what others have to say. Social networks often do a good job of identifying fake goods.
Inspect the materials: Often the materials used do not match the original - look for tell-tail signs like color, quality, shape, size, etc.
Analyze the details: Pay attention to the details of the item. For instance, with designer goods and sneakers, look at the stitching. Often counterfeits have lower-quality stitching.
Ask the seller: Look the seller in the eye and ask them if the product is real. Look for any odd body language and listen for verbal cues.
List of counterfeit goods examples:
Counterfeit Callaway Golf Club Comparison
Counterfeit Rolex Comparison
Counterfeit Louis Vuitton Handbag Comparison
Counterfeit Air Jordans Sneakers Comparison
💬 Be the first to leave a comment