Pawn Shops Featured In Movies, TV Shows, Music & Games
Popular media often feature the pawn industry. Read why pawn shops are a popular topic.
Last updated December 22, 2022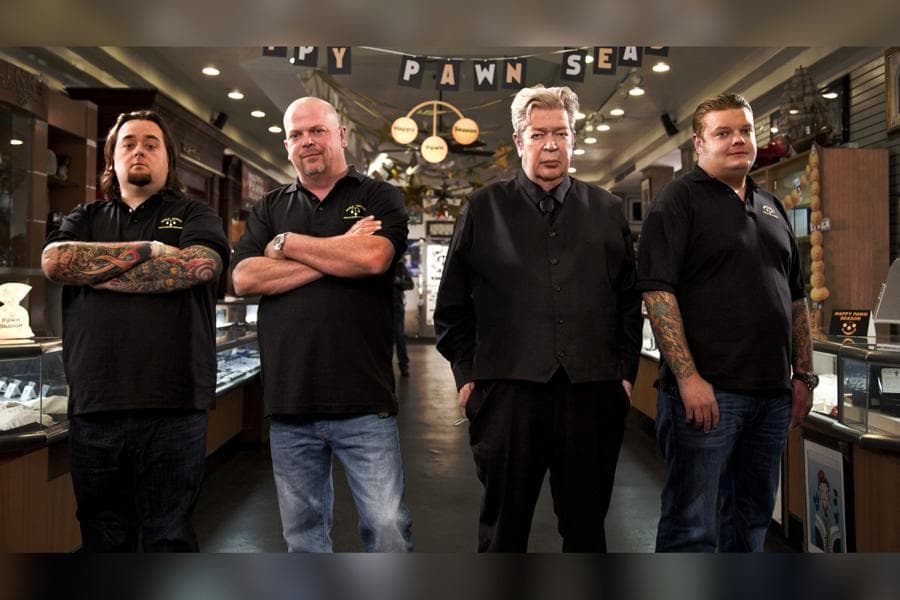 Pawn shops have been featured in a wide range of television shows, movies, and songs over the past few decades. Pawn shops play an important role in today's modern economy by providing money to people who pawn and sell items (read more about how pawn shops work).
Pawn shops and their staff are featured in popular media. Pawn Stars, launched in 2009 on the History Channel, is among the most popular and longest-running pawn shop TV shows. Below we will highlight various songs, TV shows, movies, and even video games that have featured pawn shops.
Pawn Stars (TV show)
Pawn Stars is a History Channel television series featuring the daily operations of Gold & Silver Pawn in Las Vegas. The pawn shop opened in 1989, and it is operated by the Harrison family. The main cast of Pawn Stars includes patriarch Richard Old Man Harrison (now deceased), his son Rick Harrison, Rick's son Corey Big Hoss Harrison, and Corey's childhood friend, Austin Chumlee Russell. TV Guide has described the show as one part Antiques Roadshow, a pinch of LA Ink, and a dash of COPS.
Pawn Stars regularly attracts millions of viewers and it is among the most popular reality television shows. Each show features customers who sell a variety of items to the pawn shop. The show discusses the item and its historical value, and the pawn shop often makes offers to customers to buy the item.
Pawn Stars influenced many spin-offs including:
Cajun Pawn Stars
Pawn Stars Australia
Pawn Stars UK
Pawn Stars South Africa
The Pawnbroker (Movie)
The Pawnbroker is a 1964 American drama film directed by Sidney Lumet, starring Rod Steiger, Geraldine Fitzgerald, Brock Peters, and Jaime Sánchez. The Pawnbroker is an adaptation of a novel written by Edward Lewis Wallant featuring the same name.
The Pawnbroker was produced in the United States to deal with the Holocaust from the viewpoint of a survivor. The movie surrounds the life of Sol Nazerman, a concentration camp survivor who becomes a pawnbroker in the slums of Spanish Harlem in New York City. Nazerman is a former university professor in Germany whose children and wife were killed.
Pawn Shop Chronicles (Movie)
Pawn Shop Chronicles, also known as Hustlers, is a 2013 American crime comedy film directed by Wayne Kramer and written by Adam Minarovich. Pawn Shop Chronicles featured Paul Walker, Matt Dillon, Brendan Fraser, and other A-List actors. The movie focused on the daily operations of a pawn shop and the items sold in the pawn shop.
The movie received muted reviews. Roger Ebert gave it a one-star rating. Roger Ebert described it as a lousy clone of Pulp Fiction.
Posh Pawn (TV show)
Posh Pawn is a UK television show that highlights high-end pawnbroking. The show is featured on Channel 4 and it debuted in 2014. The popular television series covered the operations of Prestige Pawnbrokers, a luxury pawnbroker run by entrepreneur James Constantinou. The show shows how clients pawn, buy and sell interesting and high-end items such as helicopters, Lamborghinis, mini-submarines, and Hermes handbags.
Hardcore Pawn (TV show)
Hardcore Pawn is an American reality television series produced for truTV about the daily operations and pawn shop staff of American Jewelry and Loan. The pawn shop featured in the show is located in Detroit, Michigan, along the famous 8 Mile Road. Hardcore Pawn premiered in August 2010 and it reached over two million viewers, setting a record as truTV's most-watched series premiere ever. Hardcore Pawn was later stopped in 2014. The show produced 162 episodes with 9 seasons.
American Jewelry and Loan is a pawn shop owned by Les Gold, a third-generation pawnbroker with an extended family history of operating pawn shops.
Pawn Shop By Brothers Osborne (Song)
Country music duo Brothers Osborne released their album Pawn Shop in 2016. The album's success helped the brothers become named Vocal Duo Of The Year by the CMA. in 2016 and 2017.
The album's songs were mostly written by John and T.J. Osborne. The album also featured vocal collaborations with Lee Ann Womack. Pawn Shop peaked at #3 on the Billboard country albums chart and #17 on the Billboard 200.
Pawn Shop By Brandy Clark (Song)
Brandy Clark's album Life is a Record features the song Pawn Shop, which highlights pawn shops, consignment stores, and the idea that one person's trash is another's treasure. Brandy discussed the meaning of the song in an interview with the Boot, and stated that she has a personal connection to pawn shops through a family member who owned one. Brandy's inspiration for the song came from a book that she was reading.
Pawn Shop In GTA (Video game)
Pawn shops are featured in many versions of Grand Theft Auto (GTA). Pawn Shop is a pawn shop featured in Grand Theft Auto: San Andreas. The pawn shop store locations are in Ganton, Willowfield, and Playa del Seville, Los Santos. The Ganton pawn shop features a spray can on its roof, and the pawn shop in Willowfield features a gang tag on its building.
Pawn & Jewelry is a pawn shop in Grand Theft Auto V (GTA5) and Grand Theft Auto Online. Pawn & Jewelry provides loans in the game.
Pawn Shop Master (Mobile game)
Pawn Shop Master is a popular mobile app game that lets you operate your very own pawn shop and try to spot hidden gems from customers pawning and selling items. Pawn Shop Master helps you improve your bargaining skills to get the price as low as possible before you buy it from them. Pawn Shop Master makes the game fun because you have to spot fake items and avoid purchasing stolen merchandise.
Pawn Shop Master is free to download - it offers in-app purchases and displays ads to generate revenue. The app is published by Lion Studios and it has over 10 million downloads in the Google Play Store. Pawn Shop Master is available to download for Apple iOS and Android.
💬 Be the first to leave a comment